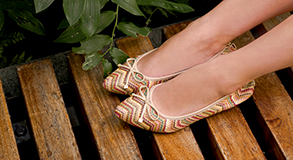 Vegan Shoes
Vegan and for good reason.

Have your pick of our variety of vegan shoes, made from premium materials like faux leather and woven textile. From flats to heels, we've got all your vegan needs covered.
Vegan Shoes for All Occasions
More and more of us are turning to a vegan lifestyle, and it doesn't stop at what we eat. We're also making conscious fashion choices. Our range of vegan shoes combines high quality materials with elegant designs so you will always look fabulous. Whether you're after ballet flats, or something else we have an elegant ethical shoe for you! With advancements in vegan fabrics, we'd be silly not to create these shoes. They have ethical benefits for the environment and its animals. So not only will your feet look amazing, you'll also feel great about what's on your feet too!
Whether you're spending a day in the office, shopping in town, or having a barbeque with friends, vegan leather shoes are always a great option. Comfortable and gorgeous, everyone around you will have shoe envy! We don't think you should have to sacrifice style for your shoes to be ethical and comfy. That's why we only use the highest quality vegan fabrics. 70% of our entire range is made of vegan leather, and we use other vegan materials such as woven textiles. Our fabrics are lightweight, and breathable, so you'll be light on your feet wherever you go! To add extra comfort all of our flats have a memory foam insole to support your feet wherever you go.
The majority of our vegan flats are foldable, making them the perfect handbag shoe. Great for when you want to swap into something a little more comfortable, without the weight of carrying around heavier heels. You're never going to look back after putting on a pair of Butterfly Twists!
About Butterfly Twists
We are a British vegan footwear company. Loved by everyday women and celebrities alike, our shoes find the perfect balance between comfort and style. Easy to pop in your handbag to switch to, or to wear all day. Our range will fast become your go-to shoe!